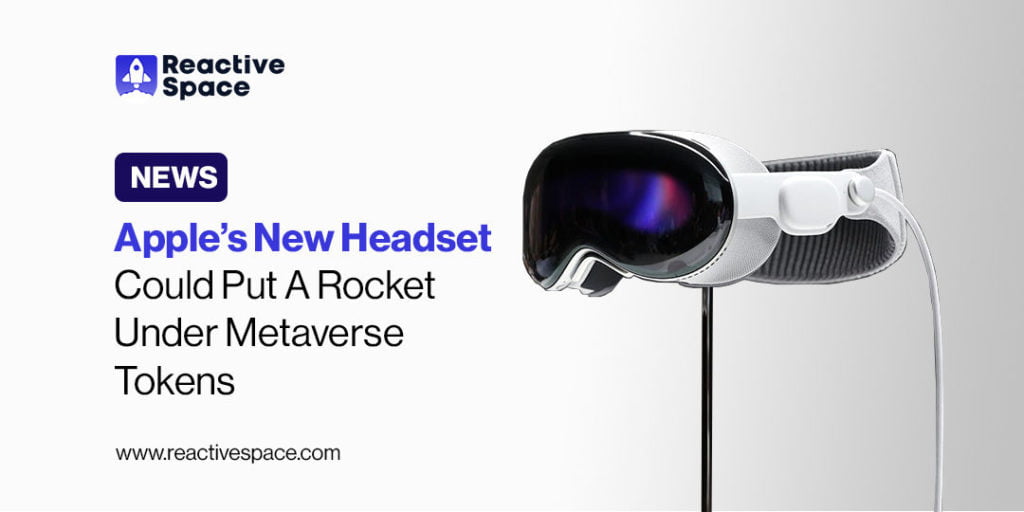 Is Apple going to amaze us again with something new? Well, most probably! Apple's new virtual reality headset has created a lot of buzz in the tech industry, and it's been quite some time now, and considered in the list of products that are complete winners.
This headset is a mixed reality, which means that it will be offering augmented as well as virtual reality. These technologies are closely related to each other, and that is why they are considered mixed reality.
This technology has the potential to overlay virtual images onto live videos of the real world. The launch of Apple's Headset, which is VR/AR, has created anticipation that it would be one of the biggest launches of the company, and it has the potential to change the way individuals engage with each other via computers as well as the world around them.
In previous years, this topic was in the limelight, and the reason was Meta's Oculus Quest Devices, but What are these devices, and what is their significance?
These devices are a complete package of the ecosystem of easily accessible and reasonable software.
Introduction To The Apple's Headset
Apple's Headset, a new vision of spatial computing, arrives to transform the world for the better. Now with the help of Apple's Headset Pro, you can see and live every moment of your world.
With Vision OS, you can now live up to your favorite apps in your space and enjoy every fragment of your life.
Does it sound familiar?
Well Yeah!
Apple's Headset allows you to easily navigate with your eyes, flick to scroll, utilize your voice to dictate, and select an option you can simply tap.
Magical right?
Diving into the Apple's headset features, you will see that it reacts to light, have the app's dimensions, and make it look gloomy or cast shadows. All of this is happening inside Apple's Pro Headset, and you can feel the existence of a person in real.
The foundation of Apple's vision pro laid upon the idea to help people interact with each other and to let them know that they are not isolated.
If you want to know more about Apple's Headset, watch this video!
https://71af6114-45a6-46b0-8f20-e604c87e5296.usrfiles.com/html/db9376e69cfa487ea0fa0b912ae51a4f_v1.html
Digital Interaction
Apple has various other devices like its watches, Macs, iPhones, and iPads, and it made digital interaction easier with others as well as with applications.
It is also considered that these headsets can potentially change the way we see AR/VR by helping people in making money via services as well as devices.
Every great thing comes with some challenges, and Apple's new headset might also face a few challenges as well.
Expected Challe
No doubt, Apple has an intimidating track record, but this launch also faces various challenges on multiple fronts.
High pricing can become a challenge because, as per reports, the company is considering Apple's headset for around $3,000. As it is a time of economic uncertainty, this product is worth more than most of Apple's products.
There are various companies that tried to be in the mainstream to attract buyers for headsets, but it didn't create a buzz like the launch of an Apple headset, and the attention of the tech community has shifted from virtual reality to another beast, Artificial Intelligence but now it seems like Apple will prove the cynics wrong.
As Apple has a huge customer range, It is expected that its entry will potentially restore life to the world of AR/VR headsets.
Apple And Its Perspective On Augmented Reality
Apple is creating hype by saying that they will show how they will change the game of augmented reality.
The functions these headsets will have are listed below;
The components of mixed-reality
The setting of virtual Reality
These functionalities help the users to see the objects that are being projected into the Augmented Reality into the real world.
According to the GQ interview, Augmented, as well as virtual reality, has the potential to engage people via collaboration and communication, and it is considered a very interesting core technology.
Augmented reality can be seen in some of the Apps Apple has launched.
It includes; Apple Watch apps, Ikea Place, etc.
Apps headset is also able to App packs for fitness, gaming, meditation, and iOS, which includes Safari, Messages, Facetime, etc.
There is a possibility that in the beginning, these headsets will be purchased by a few, but once the price comes down or it shows exciting features, a huge amount of people will gain interest in buying this.
Apple's Headset And Revival Of Metaverse-Related Crypto
According to analysts, the release of Apple's headset will revive the cryptocurrencies related to the metaverse, and there are various individuals who participate in the crypto market while correlating to the contempt of virtual reality that is ''Metaverse Tokens''.
Many analysts have noticed that it will take a long way to experience the metaverse potential fully.
There are various companies like Reactive Space, which are the pioneer in the Blockchain and Web 3.0 industry, that are participating in the fast race of today's world by delivering cost-effective metaverse services.
Apple is launching the same category of products with more exciting and attractive packaging, which is why people will adopt these products very soon.
Let's see if this new launch will maintain the image of Apple's supremacy.