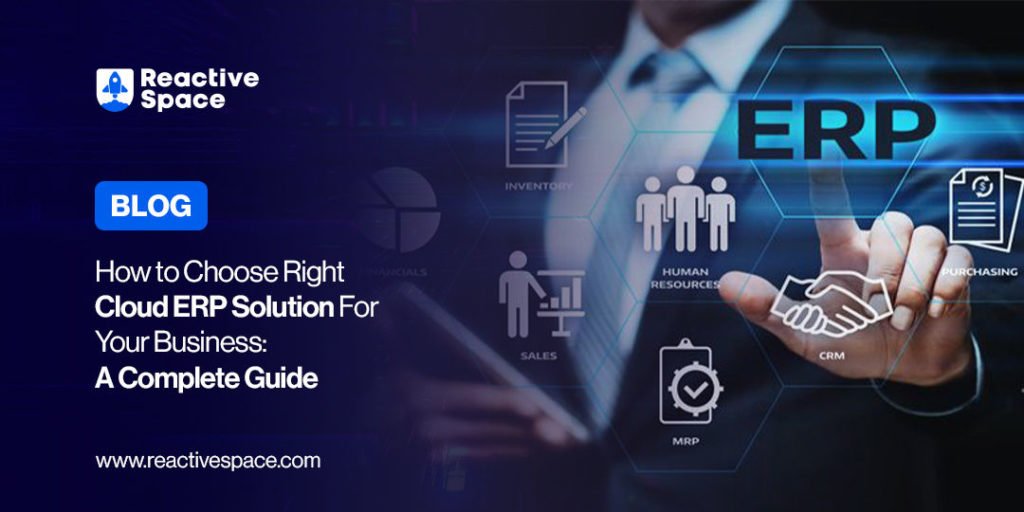 Achieving excellence in business in the fast-paced world is more crucial than ever, and organizations are progressively turning to cloud-based ERP Solutions (Enterprise Resource Planning).
The purpose of cloud ERP solutions is to streamline business processes for the enhancement of productivity. The hurdle comes your way when you have to decide the best fit for Enterprise Resource Planning solutions for your business, and the reason is that there are a lot of options available out there, who are claiming that they are offering the best customized ERP software solutions for your business. No worries! With the help of this article, you will be able to consider all the essential factors that are required before choosing customized ERP solutions to transit your business into long-term success.
To begin anything, it is important to first find your "Why" That could be the purpose, and the second most important thing is to find ''How''. In this article, we will be answering all these things.
The Internet is bombarded with a lot of information related to enterprise resource planning, but the main question is how businesses calculate ERP solutions (Return on Investment) ROI. With business growth, complexities also grow whether it's related to applications and their multi-tasks, error-prone, or even inconsistent data.
Here are some commonly asked questions;
ERP Solutions typically be in what type of Cloud Service?
It comes under the category of SaaS type. On-cloud ERP software has been provided by the vendor that is used through the internet. The job of the vendor includes updating the system regularly to ensure that the users can always access the latest version.
What are the key factors that need consideration when selecting an ERP solution?
These are the key factors that contribute to the selection of a successful ERP solution.
Project Planning
Vendor Viability
Cost Executive Support
Selecting the Right Partner
Compare and Research different ERP solutions.
Keep in mind the implementation process.
What are the key benefits of Cloud ERP system integration?
Cloud ERP System has transformed the way businesses are being operated, helping them in increased efficiency and streamline operations.
In this section, the key benefits of Cloud ERP system integration will be discussed.
Cost-Effectiveness
The traditional ERP system requires more investment in terms of maintenance, software, hardware, etc., as compared to the cloud ERP solution.
Cloud ERP also provides access to various devices that has a minimum plan for a subscription. Cloud ERP doesn't require the traditional IT staff to maintain, operate and support. That is why, it is more cost-effective, and efficient in the business out there.
Collaboration
Regardless of the physical location cloud ERP enables seamless collaboration with customized software. It helps to store and access data via the cloud in real time while improving efficiency and productivity.
Real-Time Data Analytics
Integrating the Cloud ERP system enables synchronization between various departments and locations. It helps employees in accessing up-to-date data, informed decision-making, and facilitation.
Streamlined Business Processes
Customized ERP software can be created to align with your business processes, increased productivity, and streamline operations. Cloud ERP solutions help in the enhancement of data flow, efficiency, and communication.
Enhanced Security and Data Backup
Providers of Cloud ERP robust security measures for the protection of sensitive data. Recovery protocols and data backups ensure that your critical information stays safe.
Road Map to Choosing the Right Cloud ERP Solution
Choosing the right Cloud ERP Solution for Your Business is significant for your operations as well as your overall success. In this section; you will be guided to select or customize cloud ERP software.
Understand your business requirements
The first step to choosing the right Cloud ERP Solution is to understand the needs of your business. Identify challenges, key processes as well as goals that you require customized ERP software to address.
Factors that need consideration are Integration, scalability, and the number of users that are accessing the system.
On-Premises vs. Cloud
You need to check if a cloud-based ERP solution or On-Premises fits your business best. Cloud ERP offers a more effective, scalable, and flexible system. On the other hand, On-Premises focuses more on security as well as data control.
Customization Options
Customized ERP software enables you to design the system that fits your unique business needs.
A customizable solution also allows software to adapt according to your specific workflow, and needs.
Compliance and Security
Ensuring compliance, and security protocols of ERP systems while dealing with financial information and customer data.
It also helps in the verification of access control, security updates, and data encryption.
User-Friendly Interface
A user-friendly interface is crucial for enhanced productivity, seamless employee training, and efficient adaptation.
Scalability
Requirements of the businesses change as the business grows. For that purpose, selecting a perfect fit like Reactive Space is crucial for the future expansion of your business.
Integration Capability
It is necessary to check the integration of the ERP system that is used in your organization whether it's an application or software. Softwares like HRM, ERM, AND e-commerce platforms help in the overall enhancement.
Mobile Accessibility
It allows employees to stay connected while accessing crucial data on the go.
Vendor Support and Reputation
Research about customer reviews and feedback helps to get an idea about the services' quality, and customer support.
Performance and Reliability
Verify the ERP solution's track record and performance to have a guarantee, recovery procedure, and data backup.
Downtime can also influence your business operations as well.
Future Updates and Upgrades
Checking the policy of the ERP provider related to new features, updates, and enhancements.
In conclusion; choosing the right ERP solutions for your business requires security, support, scalability budget as well as unique needs, and Reactive Space is offering all of these indispensable services and more.