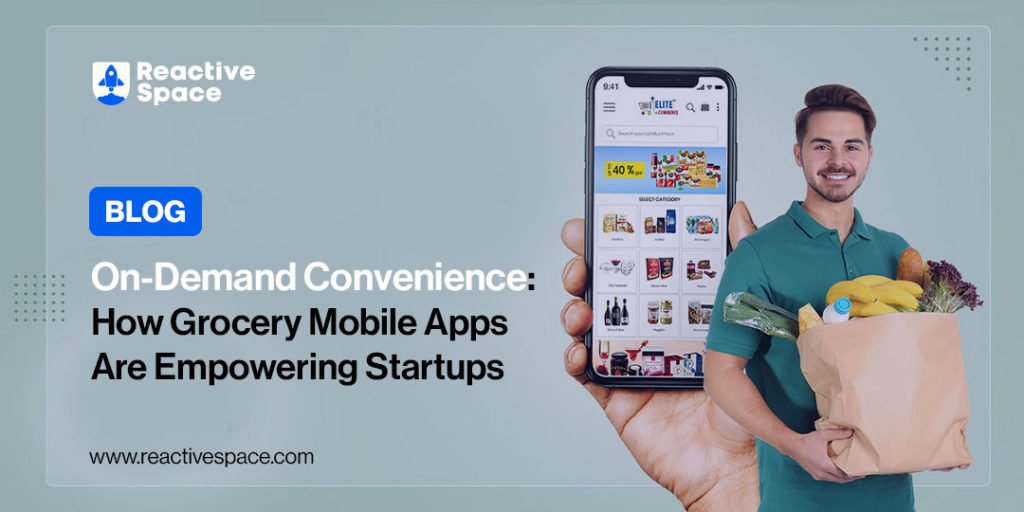 Are you in search of a roadmap that shows ''How grocery mobile app development is an empowering step for a successful startup?
Well, you have arrived at your destination!
Do you remember the time when you had to go to the grocery store physically? Isn't it hectic to find each item from a different corner?
From pushing heavy carts full of groceries to waiting in a long line for your turn at the checkout counter. It's quite frustrating and limiting, right?
With mobile apps, you can just tap and select the item you require, and it's done.
After Covid-19 Pandemic, Online grocery stores turned into a necessity of life and promoted the mass eCommerce market. Many online stores didn't limit themselves to websites only, but they have also shifted to Mobile Apps as well. Grocery Mobile apps have turned a very boring and time-consuming activity into a delightful experience. With these mobile apps, you could have access to an entire supermarket and add whatever you need to your digital cart.
Not only this, these apps also offer you a feature where you can filter out the products you want to purchase, whether it's vegan, gluten-free, or even organic. Grocery mobile apps also offer you to choose a time of delivery that can fit your schedule so that you can get it on time and fresh groceries at your doorstep.
The most interesting part about these mobile apps is the flexibility it provides according to your needs. These apps can track your previous order list, give you recommendations on your next purchase, help you to monitor your spending while saving your information, update you about the restocked products, and send you promo codes as well.
Let's explore the Roadmap to a Successful Grocery Startup with the On-Demand Convenience of Mobile Apps.
Before starting anything, the first step is always about clearing the purpose in your mind, so I have a question for you; What is the purpose of grocery mobile app development for you?
For any startup, it is very crucial to keep the customer's needs in mind, so you can provide as much convenience as possible while earning great rewards.
What are the different features to consider when developing a Grocery Mobile App for a successful startup?
The features mentioned below will help in the enhancement of user experience and streamline operations as well.
User-Friendly App
The first ladder to a successful grocery mobile app is to make it look appealing and easy to navigate. Make sure that the users can easily and quickly browse through all the sections and search for items while making it easy for the customers to purchase groceries with minimal effort.
Product Catalogue
Develop a product catalog that is well-organized and comprehensive with a wide range of items.
In the product catalog, each item has been described in detail with its images, nutrition, as well as the customer's review for helping users to make informed decisions while gaining their trust.
Customized Shopping Lists
This feature allows users to manage and create personalized shopping lists. You can also save the list of items you have frequently purchased. It also provides you the feature where you can have a specific list that can be utilized on different occasions when needed.
Advanced filters and search
Advanced filters and search feature allows the audience to quickly choose the desired products effectively.
These filters are based on different niches, such as:
Categories
Brands
Pricing
Dietary
Preferences
Pricing
and much more to narrow down the search result.
Real-Time Inventory
Reliability is very important in mobile app development. Inventory management provides the users with the correct and updated information, including the availability information or when the items are out of stock.
Secure Payment Options
To make purchasing easy, provide your customers with various payment options like credit card/ Debit card, cash on delivery, and digital wallet. Choosing the trusted payment gateway and ensuring that the transactions are being made securely can be a reason for a great user experience.
Delivery Tracking
Delivery Tracking ensures that the users are updated about the estimated time for the delivery. Also, send the users a notification about the progress of your order as well.
Ratings and Reviews
You can allow the users to write honest reviews about your products, rate them, and even attach pictures with them. Display the reviews and ratings to build the potential customer's trust in the products that you're offering.
Personalized Recommendations
Mobile Apps can track your previous purchasing history and user data to personalize recommendations according to your needs. This feature plays a vital role in the enhancement of digital grocery shopping. These suggested items are most relevant to your previous purchase.
Customer Support
Grocery Mobile App also provides you with customer care as well, where you can have email support, live chat, and a helpline to clear out the customer's concerns. Providing efficient and prompt customer support can help you to enhance user experience and attract a lot more users.
Rewards and loyalty Programs
Who doesn't love a reward for loyalty? Implementing loyalty programs and showering loyal customers with discounts is a great way to foster the loyalty of the customers. It will also enhance retention as well as engagement.
Social Media Integration
Social Media Integration is a great way to allow users to share their personal experiences with the purchase, product recommendations for your network, as well as special offers. This feature helps in the enhancement of the brand attractiveness and visibility for new users.
Not only this, various other factors are worth your attention in the process of mobile app development like Market Research, Business goals, Target audience, etc.
Still in the quest for a successful startup? Imagine finding an outstanding hero who possesses all the qualities that you need for a successful grocery mobile app. Reactive Space is the key to a successful startup that can free you from all the worries while saving your precious time.