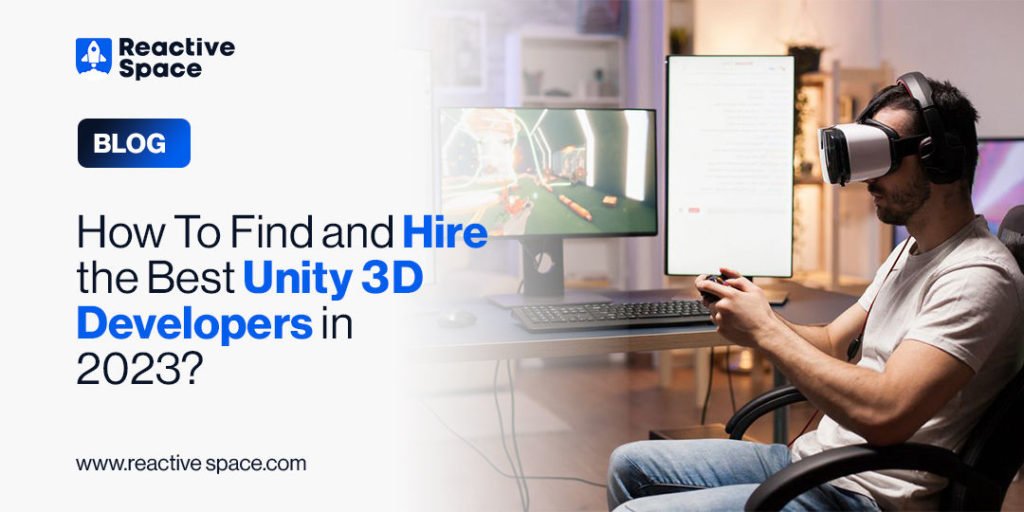 The gaming industry is thriving day by day, and this evolution has increased the demand for Unity 3D developers that are skilled. Game development Companies are continuously searching for exceptional talent with creative and innovative gaming experiences.
It's also a matter of fact that in the wide world, it's hard to find the best Unity 3D developer that fits your company that's why, Reactive Space is presenting you the remedy to attract the top-notch talent to elevate your game development projects forward.
With the help of new, practical strategies and a keen focus on mobile app development, you can mark your name in the gaming industry.
Before diving into the magical strategies to Find, and Hire the best Unity 3D Developers in 2023, you will be provided with the introduction of '' Who are Unity 3D developers, and what role do they play in the Gaming Industry?''
Unity 3D developers are responsible for crafting virtual worlds for interaction. They are the code wizards, the architects that craft thrilling games worldwide. From playing a vital role in the Unity game development to transforming visions into reality.
Unity 3D developers work closely with the game development team, artists, and designers. They also make sure that the magic of gaming expands to every corner of the world by crafting captivating platforms for audiences like Mobile Devices, Pcs, and Consoles.
Unity 3D as a Powerful Game Engine, and Its Importance
Unity 3D is a gaming engine that has become the reason for limitless successful games across different platforms that includes mobile devices. These code wizards, Unity 3D developers possess excellent technical skills to create virtual reality experiences, and augmented reality applications. Not only this, they also craft 2D and 3D games as well.
Unity developer expertise work wonders, if they have proficiency in design and development, with the knowledge of Unity Editor, and C#. A Unity 3D developer with all this expertise is worth hiring for any game development company.
Here are a few strategies that help you to find and hire the best Unity 3D Developers in 2023
Attractive Company Culture
Developers prefer workplaces that provide them with the freedom of creativity, learning, flexibility, and collaboration. To attract the best Unity 3D developers, offer them remote work options, flexible work hours, and attractive benefits to establish an appealing presence for your game development company.
Exploring Online Platforms and Communities
In search of the best Unity 3D developer, exploring online platforms and communities like Stack Overflow, GitHub, Unity Forum, and Unity Connects can provide you with a potential candidate with exceptional skills. If you want to attract potential applicants then continuously engage via these platforms for your game development company.
Game Development Events
Hosting game development events will give a chance to the developers to showcase their work, and potentially they will develop interest in your company as well, and this way you will also improve networking. It would help you to hire the best Unity 3D talent too.
Write an Engaging Job Description
Crafting a well-developed and engaging job description plays a very important role. Emphasizing the exciting projects, using engaging language, and high volume and relevant keywords like '' Game Development Company or Mobile App Development'' help your post to appear in the search engine results.
Highlight and Offer Exciting Game Development Projects
Highlighting the exciting projects that your game development company is working on would help you to attract top Unity 3D Developers that love challenges and have insight, skills, and passion for game development.
Provide Opportunities for Skill Development
If you want to attract potential and passionate 3D developers then providing them with exciting projects and packages is not enough. Also, provide them with something that will help them to enhance their development skills too.
Smooth Hiring process
Avoid long and difficult hiring processes because they may cause many talented developers to step back. Give prompt responses to the applications, conduct interviews efficiently, and always provide them with feedback.
Make sure they feel comfortable and believe that you value their time and interest as a game development company.
What are the key responsibilities of a Unity 3D Developer in a Game Development Company?
They turn design specifications into games that are playable.
According to the design they implement game features.
Their Job is to apply features into a flexible and quick setting.
Their Job is to create, maintain, and implement code effectively.
They identify the bottleneck and glitches.
Ensuring that the apps are responsive and performing well.
Implement the elements of games according to the feedback.
Future of Unity 3D Developers
The future of Unity 3D developers seems secure, and in the future, they will be having a number of job openings in the future as well. It is not only in the limelight of the gaming industry only but outside of that it is appealing to various industries, and sectors as well.
The top Unity developers have the potential because they keep up with the new techniques and game standards.
Freelance is one of the best sources for developers to earn money. You can also easily outsource.
Advantages of Unity 3D Developers
They create interactive experiences in games.
Unity 3D developers create games that are flexible and can be deployed across multiple platforms.
Developers prototype the game idea and quickly ask the game development companies for necessary adjustments.
Developers' communities help each other in the improvement of the development process.
Disadvantages of Unity 3D Developers
3D Developers are in high demand and that is why finding the right fit for your game development company is quite tricky, but Reactive Space has solved all your problems. They have experienced, skillful, and intelligent developers to help your gaming company to reach new heights.
Project Dependency when you are having a single developer can also cause a lot of challenges and leaves your company unavailable.
Platform Limitations occur when certain devices are not able to be optimized as a game engine. Neither it is specifically tailored according to those platforms.
In conclusion, hiring the best Unity 3D developer for your game development company requires a bit of strategy and a proactive approach. Ensuring that your company remains in the limelight in the gaming industry, and emphasizing mobile app development skills can help you attract the right fit for your company.