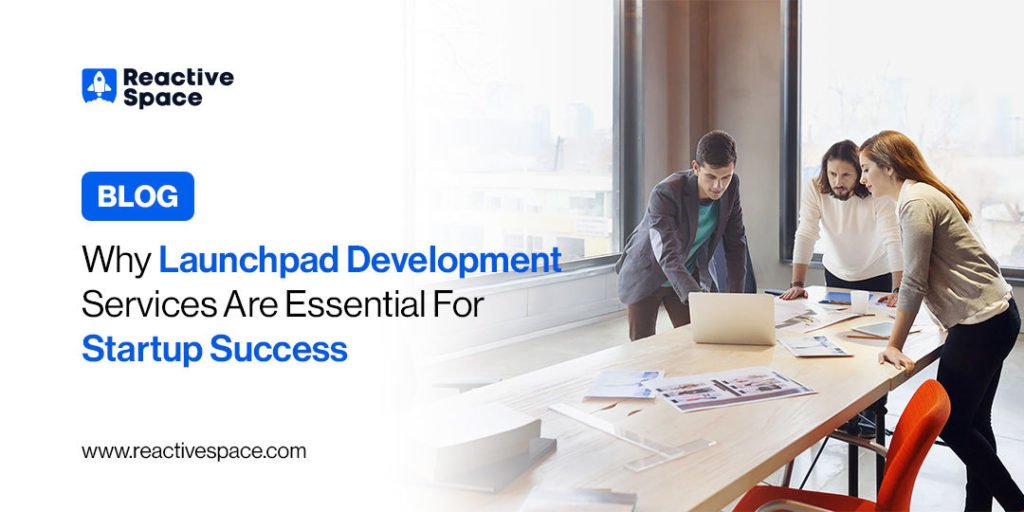 Have you ever thought of transforming your idea into a product or a service? If yes, then you're at the right place.
Launchpad Development plays a very important role in turning your great idea into a practical solution. Launchpad development services also provide a roadmap for ventures and startups to turn complex ideas into market-based services or products.
Launchpad Development services aim to ensure that your innovative idea is being tested, deployed as well as refined efficiently.
Companies like Reactive Space ensure to provide the best launchpad development services so that consumers can easily avail themselves of novel technologies, new innovations, and solutions quickly.
Launchpad Development has a usability test and user-centric design which makes it even more compelling in terms of making our daily life easier, resulting in products that are user-friendly, intuitive, simplifying for technology use, and tailored according to our requirements and needs.
Launchpad development also helps you to hold onto emerging technologies including artificial intelligence, etc. while opening the doors to improving capabilities, automation, and efficiency to streamline numerous aspects of our day-to-day life.
Furthermore, it also provides collaborative expertise by uniting technology, design, and business development teams to ensure the reliability and quality of the product. They also allow the startups to well define their core competencies.
In this article, we will explore the reasons '' Why Launchpad Development Services are important for startup success'' and how Reactive Space is a roadmap to your startup's success while helping you to make a significant impact.
Concept of Launchpad Development Services
Launchpad Development Services provides a wide range of customized resources and support to help startups in improving stack technology, and development processes which boost the chance of market success.
Launchpad Development services also provide startups with the formation approach to revolutionize their great ideas into customized market-ready solutions. It includes design, ideation, prototyping, marketing strategies, scaling, and testing.
Expert Guidance and Resources
One of the most useful things about Launchpad Development services is access to resources and expert guidance. We all know that starting a business from scratch requires numerous skill sets which include development, business strategy, design, and marketing.
Companies like Reactive Space provide startups with a team of experts who help you at every single step of your startup journey. They also benefit the startups by providing them with insights into the technical aspects, user preferences, market trends as well as potential challenges.
Iterative Refinement and Fast Prototyping
In today's digital world of startups, fast speed is a blessing, and the launchpad development services provide you with the ability to gather feedback and create prototypes to stay ahead in today's competition. These services also offer you insights, iteration, and prototyping which allows the startups to showcase their products to market rapidly.
In startups, it's very important to have a reliable partner like Reactive Space in your launchpad development journey that offers expertise along with various tools that are required to build functional prototyping in a short time span.
Potential Risk Reduction
The first step is always the most difficult, and so are the startups, and that is one of the main reasons that there are plenty of businesses that don't work well in the first two years.
Launchpad Development helps to identify potential risks at the time of development processes. These services include; feasibility studies, in-depth market research, and technology to ensure startup sustainability.
With the help of thorough research and identification of the potential risks; companies empower startups for making educated decisions, and tailor-made but cost-effective strategies.
Growth and Scalability
After the product launch, scalability becomes your biggest concern especially when your startup attracts users and purchasers. This scalability concern can be solved by creating a strong technical foundation for the scalability of the startups, so they can handle the growing demand seamlessly.
The companies that provide launchpad development services equip the startups with the necessary tools and technology so that they can handle the growth smoothly; such as the implementation of an effective database, development of responsive user interfaces, optimization, and infrastructure.
Core Competencies
At the beginning of every startup, resources are limited whether it's money, team, or time; that is why, the investment of those resources wisely is very important for startup success and survival.
With the help of launchpad development services, you can relax by handing over developmental and technical tasks to the experts like Reactive Space. It allows the experts to dig deep into the core competencies of the startup such as customer engagement, marketing, user preferences, and business strategies.
Go-to-Market Strategy
Your startup success mainly depends on your Go-to-Market strategy. Launchpad development services help startups create an effective strategy by keeping all the aspects in mind such as; targeted demographics, market trends, user preferences, and market competitive landscapes.
This approach helps in maximizing the impact of the service or the product by enhancing successful market entry.
Companies like Reactive Space that provide launchpad development services create tailor-made market strategies for you that will help you achieve your goals.
Complex Processes Simplification
There are unlimited startup innovations that revolve around the idea of simplifying complex processes by making them user-friendly, efficient, convenient as well as accessible.
Launchpad development services aim to identify the issues that exist within the process and its solution to help in the enhancement of streamlined processes to make interaction smooth, reliable, and easy.
In conclusion, Launchpad Development Services helps startups to reach new heights by turning their innovative ideas into services or products. They also offer expert solutions for mitigation risks, resource utilization, prototyping, or go-to-market strategy by navigating and focusing on growth and innovation by solving complex landscapes of service or product development.
In the realm of Launchpad Development, Reactive Space plays a vital role in creating a customized roadmap to your startup success and turning your creative idea into a reality.