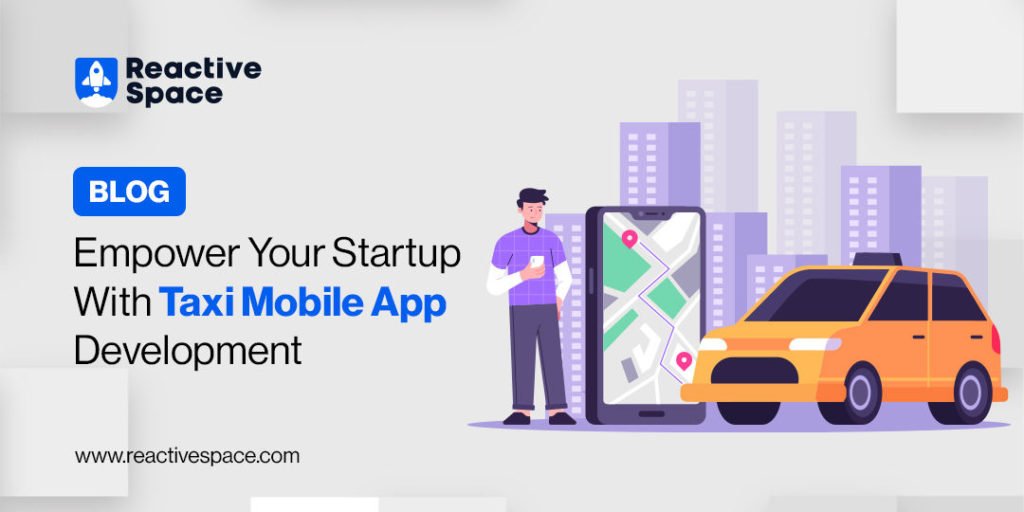 Welcome to the world of hassle-free and reliable transportation that's just a click away.
Technology is continuously evolving to work for the betterment of Mankind and provide ease to them. Taxi mobile app development is one of the biggest achievements in this aspect. There is an emerging need for reliable and seamless transportation in this fast-forwarding 2world. Modern transportation makes your journey hassle-free and budget-friendly.
So, came out of a tiring and hectic traveling and levy your life with modern technology to enjoy every moment.
Startups are always behind innovations but facing multiple hurdles simultaneously. So, development companies or service providers are at their back support to achieve their goals.
We are writing this blog from a leading mobile app development company's perspective to inform startups about challenges and their effective solutions.
Let us make your startup navigate to the destination of success!
What is Taxi Mobile App?
Mobile apps are performing as the platform, empowering high-end features to connect users and providers.
Taxi mobile apps provide easy access to booking, tracking, and payment processes. Users would easily connect to riders through mobile phones. Users simply enter his/her destination and select a ride through filters. The rider would track the client through the GPS navigation system.
What are the key features of a successful Taxi mobile application?
Real-time tracking streamlines the process with advanced GPS technology. With improved Transparency and trust, clients would travel safely. This feature can optimize routes, navigate through traffic blockage and efficiently pick up passengers without wasting time.
The fair would be calculated through an advanced algorithm. It takes into account various factors, including distance traveled, time taken, and any additional charges at the time of booking. This automated process eliminates the need for manual calculations and ensures fair pricing on each ride.
Multiple payment options are more reliable and effective for clients. Cashless transactions would become easy through digital wallets and mobile payment platforms. Secure wallet authorization can add an extra layer of convenience for users.
To fulfill the need of the global customer community, effective communication is an add-on to a successful mobile application. The multi-lingual feature would break down language barriers and create easy access for safe traveling.
Advance Data analysis will forecast demand, check historical data, and analyze user preference to provide a seamless experience to both rider and user. An advanced queue algorithm will optimize the order and ensure an efficient experience without wasting much time.
Friendly, User experience lies at the foundation of every successful app. A clean and intuitive interface with a visually appealing design will make the user's experience enjoyable and hassle-free.
Top Challenges faced during Taxi Mobile app development from Scratch
Starting any business from scratch is a daunting task, coupled with technical issues, consumer satisfaction, market competition, and revenue generation. With rapidly evolving technology, continuous updating and implementation are required for a successful business.
With our extensive experience in the field, we list down some common challenges that most startups face:
Due to high competition, customer satisfaction is mandatory for stability in market competition. Saturation and visibility made any application stand out in the competition. Emerging trends and technological shifts are the biggest hurdles for any startup to deal with competitors. Unforeseen disruptions and rapid advancements are additional factors to make it difficult for Market dynamics.
Technological advancements prioritize automated processes, but it is not as simple as it looks from the user end. It requires continuous deployment and implementation for a smooth workflow. This feature has multiple benefits, but it comes with unique challenges. Automation must be tested continuously for getting positive feedback from clients.
Effective route management is a critical factor for all transportation apps. Real-time data analysis will help the rider to find the best and shortest route to make the journey as short as possible. Through the GPS navigation system, routes would be highlighted according to the traffic situation, and you would get the best route to your destination.
Real-time updates require continuous data synchronization. And data synchronization requires internet access and server connectivity. It is beneficial for seamless integration, but it's a complex process that needs to implement robust encryption protocols coupled with secure authentication and authorization.
Dynamic fare calculation considers 2 major factors including; time taken and distance traveled. The app must define clear rules and regulations for any additional charges, so the customer must be well aware of price calculations. Display of fare breakdown would enhance transparency and trust of customers.
Accelerate your startup with our expertise!
The future of Taxi mobile app development is an unwavering and continuously evolving industry empowered with endless possibilities. Customized solutions embedded with technological advancements to achieve customer satisfaction are the successful app.
Partnering with us means giving your business a boost with efficiency, reliability, and convenience. We provide a hall of experienced developers who manage all your processes and are responsible for a seamless workflow. Don't hesitate to connect and give your clients a transparent interface, to travel with security and confidence.
The road to success is full of hurdles, but don't forget that destination is a success. Choosing a successful partner will revamp your tiring journey and help you to lead the market.